VIBES 2021 – 2022 | Looking back and ahead
Another year has passed, and what a year it was! Let's take a look back at what 2021 brought us and anticipate the good VIBES of 2022!
5 years of good VIBES
2021 was a special year for VIBES, as we met our first lustrum! More than 5 years ago, on the 29th of February 2016, VIBES was founded. Shortly afterwards we launched our first product, the VIBES Toolbox for MATLAB, and we started the development of our second product: DIRAC. As we were growing fast, we soon moved to a bigger office within the YES!Delft accelerator and opened a second office in Munich, Germany. Since then, our growth only went faster and faster. The expansion of the development team resulted in DIRAC becoming a piece of high-quality software (if we may say so ourselves 😉), which was officially launched early 2019. As you know, we didn't stop there; we set out a collaboration with Lightyear and started developing SOURCE. About a year later, the launch of SOURCE was a fact! Then, when one of VIBES' innovative projects was ranked 2nd in the Eurostars program, we kicked off the development of our fourth product: COUPLE, our dedicated dynamic substructuring application to bridge test with simulation. Together with DIRAC and SOURCE, VIBES can now offer engineers a complete test-based modeling workflow.
What a journey! These past 5 years gave us so many reasons to celebrate. And so we did! In the summer of 2021 we celebrated our first lustrum with a week of team activities, informative workshops and fun stuff. Being able to celebrate 5 years of good VIBES would not have been possible without our partnerships. On behalf of the VIBES team, we therefore would like to say thanks for the sound cooperation!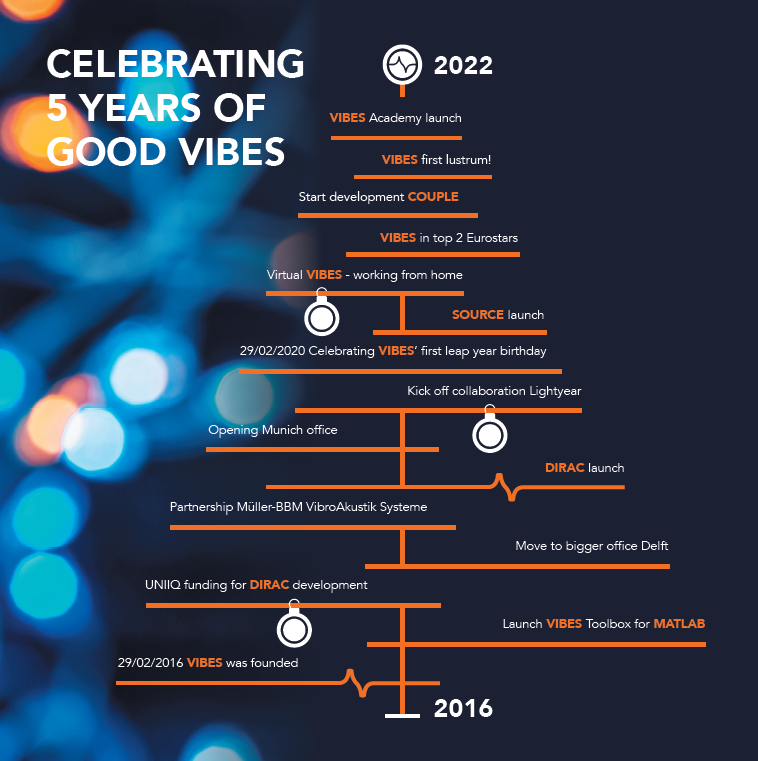 NEW: the VIBES Academy
In the fall of 2021 we launched our online VIBES Academy, to share knowledge and make a lot of information easily accessible. You can find an extensive background on our methodology and all our academic publications, as well as the user manuals of DIRAC, SOURCE and the VIBES Toolbox for MATLAB (and soon the manual of COUPLE). Don't worry, it's not only text; we have put together a nice selection of webinars & videos as well.
The first feedback on the Academy was very positive! But please do check it out yourself and let us know what you think and/or what we can improve to make it more user-friendly for you.
Projects 2021
Regarding our projects in 2021, we like to emphasize the Eurostars project in particular. At this moment we're rounding off the first viable version of COUPLE and we will soon start testing and validating the application. For the validation of COUPLE we will team up with BMW, and perform component measurements on the BMW i4, the first fully electric Gran Coupé from BMW. We'll keep you updated in the new year!
Team 2021
All of these developments could of course not have taken place without the fantastic VIBES team. So let's look into that! VIBES keeps on growing and hiring; the team expanded rapidly (again!) this year. This year we've welcomed Manuel and Efstathios (both Software Engineers), Daniel, Philipp and Mathias (all Project Engineers, located in Munich), Stuart (Product Manager), Sanjay (Finance Manager) and (yet another) Jelle (our latest Software Engineer).
We also had to say goodbye to Julie, who moved back to the USA after being with VIBES for 3 years as a Project Manager. We wish her all the best and we look forward to seeing her again at the IMAC!
We're very pleased with all the new team members that complemented our team this year. A bigger team is needed, as also our product portfolio is growing. Not only in terms of the quality of the software products and the amount of features in the software (like the latest updates on DIRAC and SOURCE), but also, as mentioned before, in terms of the development of our newest software application COUPLE.
Launching COUPLE in 2022
Now that we can characterize vibration sources (using SOURCE) and can create high-quality test-based component models (using DIRAC), it is time to go full circle and create the first dedicated dynamic substructuring application for test-based modeling: COUPLE. COUPLE is our complete substructuring studio application that applies the latest techniques. The big value of COUPLE is that it's both great with test-based models and with models from simulation. VIBES will continue to improve COUPLE throughout the further Eurostars project. The TU Munich will research new methodologies, and BMW will use their vehicle developments to meticulously test each version providing engineering feedback. The official launch of the closed Beta version of COUPLE can be expected in the beginning of 2022.
More good VIBES to come in 2022
Besides working with our new team formation and the launch of COUPLE, we expect many more good VIBES to come in 2022. Of course we'll be focusing on the next steps of DIRAC and SOURCE to provide engineers worldwide the best possible workflow for modular engineering. Next to that, we're looking forward to continue working on current projects and to start new projects with new (NVH) challenges. And hopefully the COVID measures will allow us to travel and participate in conferences globally again in 2022.
We're pretty sure we'll keep on growing in the coming year. If you want to be part of it, take a look at our career page.
Last but not least, to all of our current partners, customers, and relations: We look forward to work together again in 2022!
Best wishes for the holidays and throughout the coming year!