Accurate characterization of active sources
SOURCE is a dedicated software application for Blocked Force Source Characterization (SC) and component Transfer Path Analysis (TPA). These two topics are highly popular topics in sound & vibration engineering, as they enable a modular NVH approach. Accurate characterization of active sources, typically by Blocked Forces, requires a clear and robust workflow with quality checks at each and every step. SOURCE is the software application that enables you to do all of this. All variants of SC and TPA have been implemented in one intuitive application, designed from a clear vision towards high-quality and traceable source and TPA calculations. Results and insights generated by SOURCE fit perfectly in current CAE simulations, allowing to solve critical NVH aspects in an early phase of product development.
Our clients
SOURCE is a comprehensive application, therefore increasing efficiency and clarity and reducing the time spent on NVH engineering. It runs a complete Virtual Point Blocked Force analysis within 30 minutes!
Typical use cases of SOURCE include:
Blocked Force characterization of vehicle mechatronic systems (e.g. EPS, e-compressor) measured on a component test bench, with forces and moments up to 3kHz enabled by VP FRFs.
Operational TPA analysis on response-only data, quickly obtained and processed, seconds after the measurement.
Combined Classical and Component TPA with both interface and blocked force source description, auralized into multiple virtual vehicles.
Combining SOURCE with DIRAC and COUPLE
DIRAC in combination with SOURCE is the most effective solution for blocked force calculation! Gather your FRF Data from your favorite DAQ systems using native ATFX import. If you use DIRAC for FRF measurements, your FRFs are already organized and processed such that high-quality blocked forces are one click away.
DIRAC + SOURCE ensures:
Design of Experiment using the unique 3D preparation capabilities of DIRAC.
Virtual Point Blocked Forces and Moments. This creates 6 degrees of freedom per coupling point, indispensable to capture all source characteristics.
Transferability of blocked forces between test bench and vehicle, as the virtual points guarantee true compatibility at the connecting points.
Higher bandwidth of validity, thanks to rotational FRFs and innovative test-based modeling features.
More quality control in the blocked force calculation process.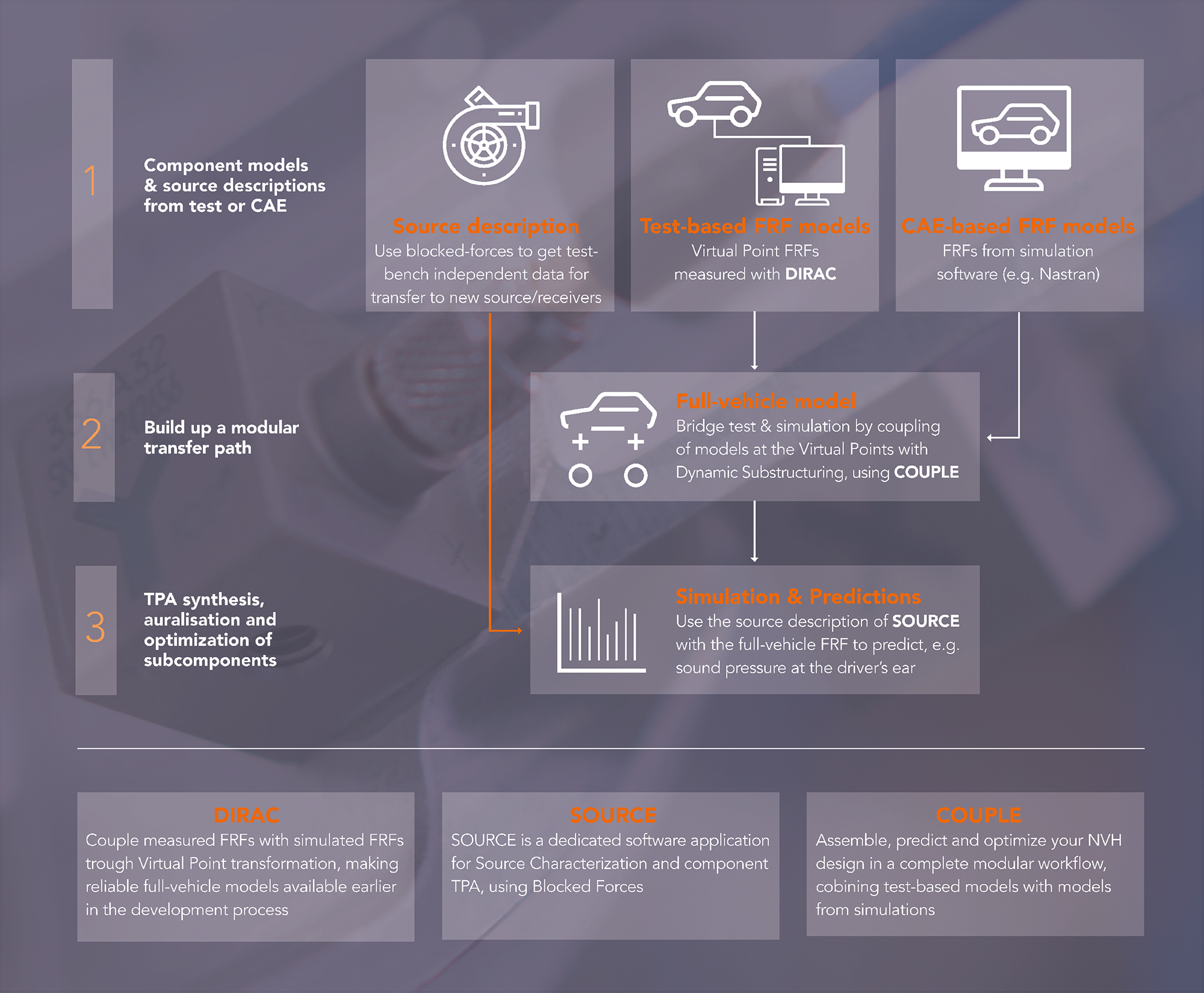 Want to know more, click on the buttons below. We are happy to give a SOURCE demo, tell you more about user cases, or answer any other questions. We can recommend downloading our whitepaper on Source Characterization, including theory and example cases on modular source descriptions using Blocked Forces.