A new, efficient way for test-based sound & vibration measuring
DIRAC completely changes the way you measure and model sound & vibrations. DIRAC allows engineers to measure FRFs with Virtual Point transformation, making reliable full-vehicle models available earlier in the development process.
DIRAC ensures traceability of results and indicates the quality of the measurement. Overall, DIRAC helps to avoid the final-phase troubleshooting – which can postpone vehicle production – and reduces the number of prototype variants needed. Limit the need to re-do measurements or to troubleshoot issues with emergency teams. In the early stages of vehicle R&D, full vehicle sound & vibration performance can already be estimated by combining measured and simulated FRFs. Over time these predictions can be updated to reflect changes in the design or decisions that have been made – thus saving valuable time and resources.
Our clients
"As an automotive engineer working on suspension level NVH performance development projects, I was stunned how the Virtual Point Transformation technique maximizes the accuracy of the systems' FRF measurement result. I am absolutely confident that DIRAC's CAD based user-friendly GUI also intuitively guides any engineer to get familiar with the software in no time. With the live quality indicators in DIRAC, you will get everything done right in the first trial. VIBES.technology has always been there for me throughout the whole project to support carrying out quality FRF measurements. Their quick and agile adaptation of customers' opinions in updating their software is also one of the strong aspects the company offers."
– David Song, Senior Research Engineer Hyundai Motor Company R&D division –
Combining DIRAC with SOURCE and COUPLE
DIRAC in combination with SOURCE is the most effective solution for Blocked Force calculation! Gather your FRF Data from your favorite DAQ systems using native ATFX import.
DIRAC + SOURCE ensures:
Design of Experiment using the unique 3D preparation capabilities of DIRAC.
Virtual Point Blocked Forces and Moments. This creates 6 degrees of freedom per coupling point, indispensable to capture all source characteristics.
Transferability of Blocked Forces between test bench and vehicle, as the virtual points guarantee true compatibility at the connecting points.
Higher bandwidth of validity, thanks to rotational FRFs and innovative test-based modeling features.
More quality control in the Blocked Force calculation process.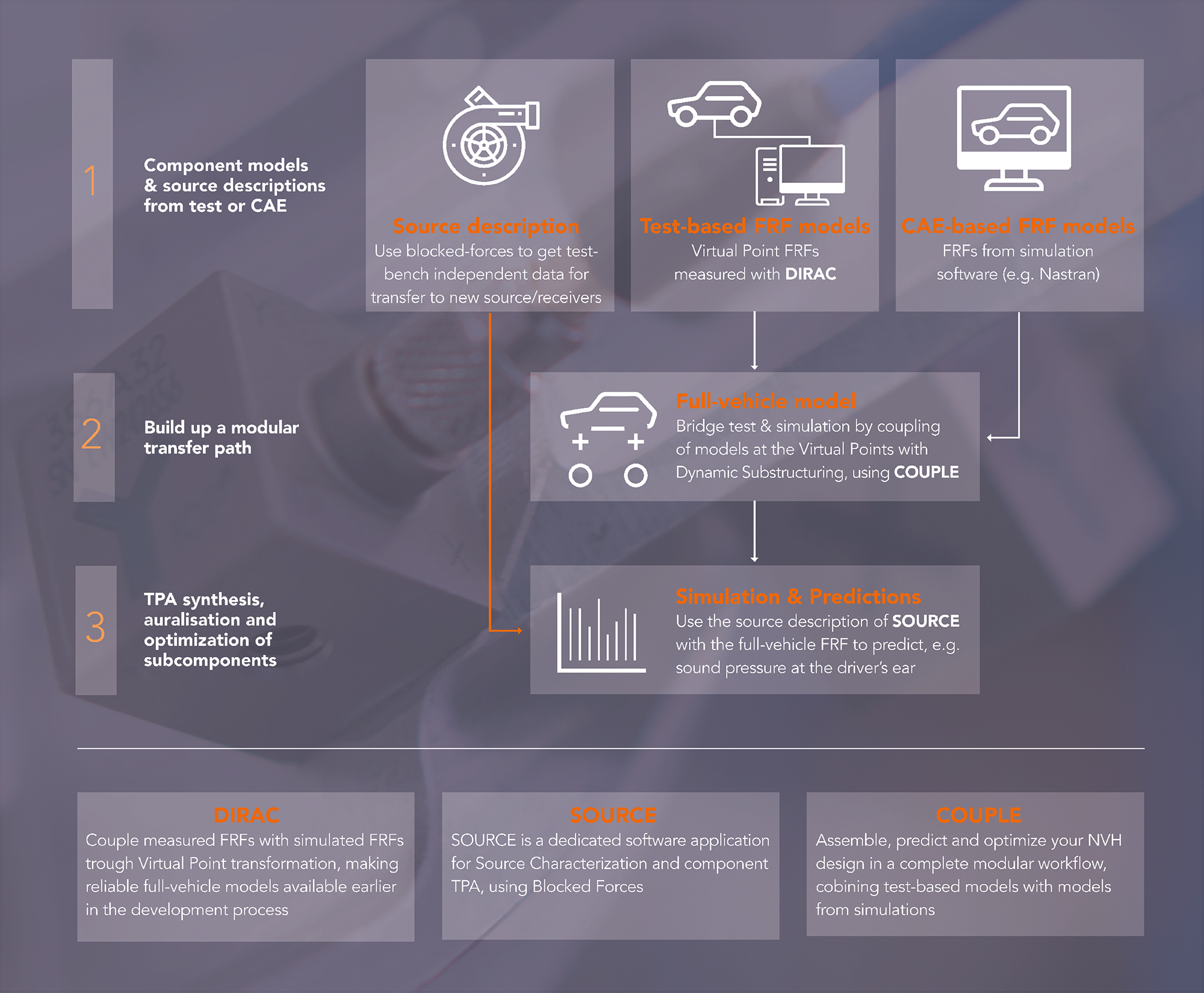 Do you want to increase the quality and speed of your sound & vibration design process? Request a free demo or contact us about our orientational tech program to see how DIRAC can help you achieve this.