Sound & vibration engineering process for the Lightyear One
Dutch companies Lightyear and VIBES.technology will work together on the sound & vibration engineering of Lightyear One. Lightyear One is an innovative solar car with a focus on range and efficiency. The goal of this engineering development is to make Lightyear One an acoustically comfortable car to drive in.  Within this collaboration, VIBES' expertise is used to set up a robust sound & vibration engineering process, which is an important step towards further growth and acceptance of electric vehicles.
Focus on efficiency and performance within Lightyear
Lightyear One is engineered with a strong focus to improve efficiency. Therefore, it is designed to be a low-weight vehicle, with integrated solar panels in the roof and hood and it has a low aerodynamic drag. The car is built to perform well in long-distance travels with little to no opportunities to use charging infrastructure, such as long treks through the Outback or uninhabited tundra's. The result is a car with an exceptional range of 725km and four advanced in-wheel motors. The sound and vibration engineering is an important aspect to ensure a pleasant experience while driving long distances, it is crucial to deal with potential issues before the production is at full scale.
``In the development of the Lightyear One, VIBES can show its full potential by improving the acoustic experience in the passenger cabin for the customer. I'm confident that this will boost Lightyear to a next level by the use of state-of-the-art measuring techniques.`` – Caspar Boerlage, NVH Engineer at Lightyear –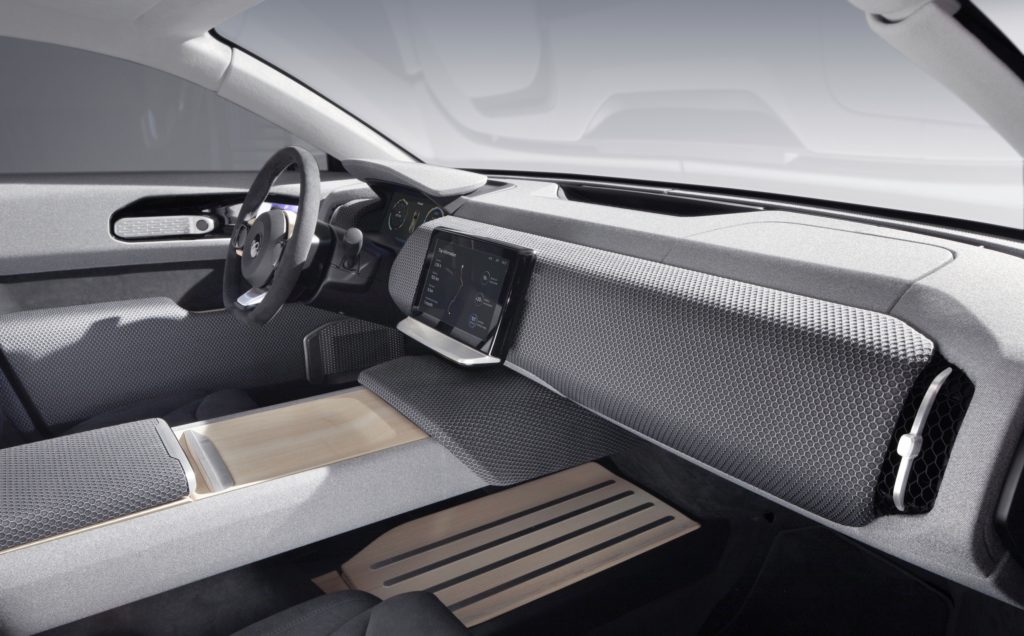 The Lightyear One interior
Sound & Vibration engineering in electric vehicle development
VIBES is a renowned expert in sound & vibration engineering for the automotive industry (the industry term is 'NVH', Noise and Vibration Harshness), and typically works with premium automotive OEMs in Europe, the US and Asia . VIBES uses an innovative methodology where test-data and computer models are combined in the NVH engineering process, which is especially relevant for electric vehicles. Electric vehicles lack the masking effects of a combustion engine and require a different engineering approach. The fact that Lightyear, as a young and innovative OEM, is not bound by restrictive historical processes intended for combustion-engine development, makes it an ideal partner for the VIBES way-of-working.
The focus of this collaboration is vibration source characterization: a process where measurement-data is converted to a model of the vibration source. This model is then used to optimize the full-vehicle NVH of the Lightyear One. The Lightyear One has several advanced components, such as the in-wheel electric engine, which are difficult to optimize using traditional NVH methods. VIBES will work together with Lightyear on these challenging components and distill the learnings into a software application to manage the process in the future. VIBES and Lightyear are both excited about this collaboration, which is also made possible by the province of South Holland.
``This collaboration is a great opportunity to create a state-of-art NVH engineering process at Lightyear, one which tackles specifically the challenges in electric vehicle development. This is a win-win collaboration, which shows the Netherlands has a lot to offer in automotive.`` – Maarten van der Kooij, CEO VIBES.technology –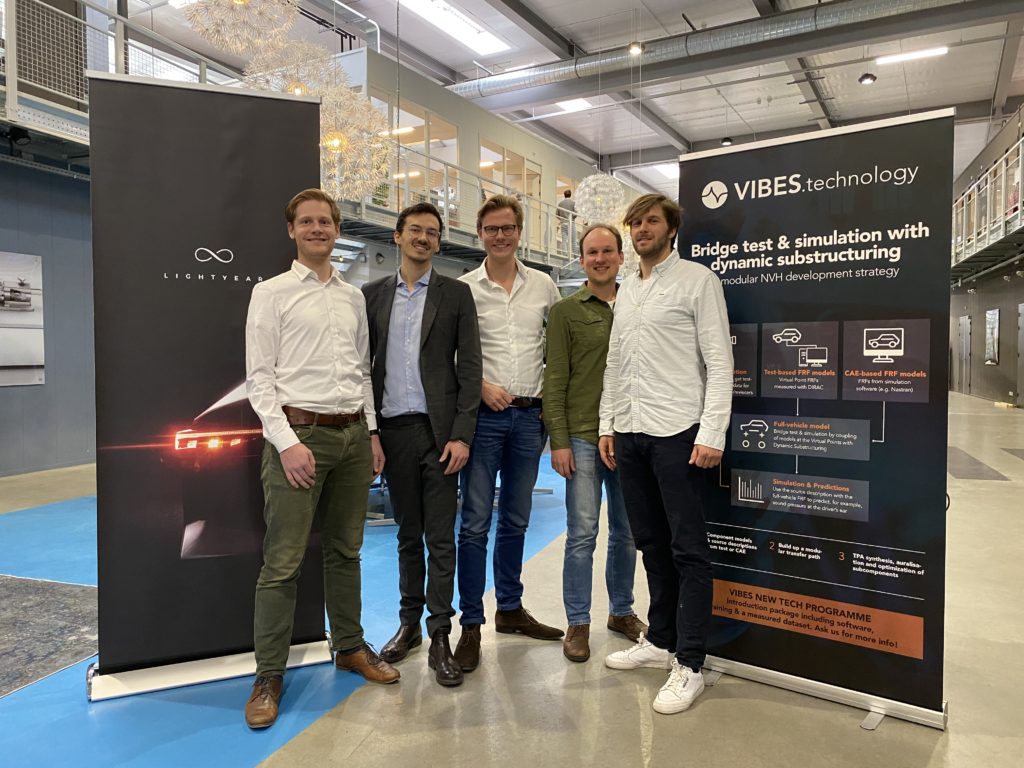 F.l.t.r.: Caspar Boerlage (Lightyear), Andrea Carpi (Lightyear), Maarten van der Kooij (VIBES), Maarten van der Seijs (VIBES), Eric Pasma (VIBES).
About Lightyear
Lightyear is on a mission to make clean mobility available to everyone, everywhere in the world. Lightyear develops electric cars with an energy-efficient design and integrated solar panels. This allows motorists, depending on the climate, to drive up to twenty thousand kilometres per year on sunlight. The fast-growing tech company was founded in 2016 and currently employs more than one hundred employees. The team is made up out of a mix of young talent and experience from the automotive industry, including former employees of Tesla and Ferrari. In less than three years, the company raised funding of more than thirty million euros through reservations, investments and grants. Lightyear also won the CES Climate Change Innovator award and became a finalist in the Postcode Lottery's Green Challenge. Lightyear recently received the Horizon 2020 grant from the European Commission under grant agreement number 848620. In the summer of 2019, Lightyear launched its first driving prototype, Lightyear One and opened a new office.
About VIBES
VIBES.technology is a global expert in modular sound & vibration engineering for the automotive industry. Using the VIBES methodology, vibration issues are apparent before physical full-vehicle prototypes are built. Therefore they can be solved during the design phase rather than the late and expensive troubleshooting phase. With the VIBES methodology, computer simulations and test-based measurement data are combined, which enables a hybrid design strategy.
VIBES develops user-friendly software applications to perform complex sound & vibration measurements and analyses 'first time right' in the initial design phase of vehicle engineering. VIBES also provides training and works as an engineering consultant for automotive OEMs and suppliers around the world. VIBES has offices in Delft, the Netherlands and Munich, Germany.