Hurray! VIBES' lustrum celebration week!
On the 29th of February 2016 VIBES was founded. Thus, in 2021 we are celebrating our 5-year anniversary! Since the COVID-19 situation did not allow us to have a big party back in February, we had an online "bake your own cake & get-together" session that time. It was lots of fun, but nothing as good as a live celebration.
As the months passed by and COVID-19 cases where going down we saw the opportunity to organise a lustrum week for all of us in the Netherlands. Our colleagues from the Munich office came over to Delft on the 28th of June until the 2nd of July, right at the time all restrictions were lifted.
Tuesday 29-06-2021
On Tuesday morning we started the day with our weekly Update Show. This time not through teams, but with everyone together (on safe distance, that's why you don't see all of us on the picture) in our new office in Delft!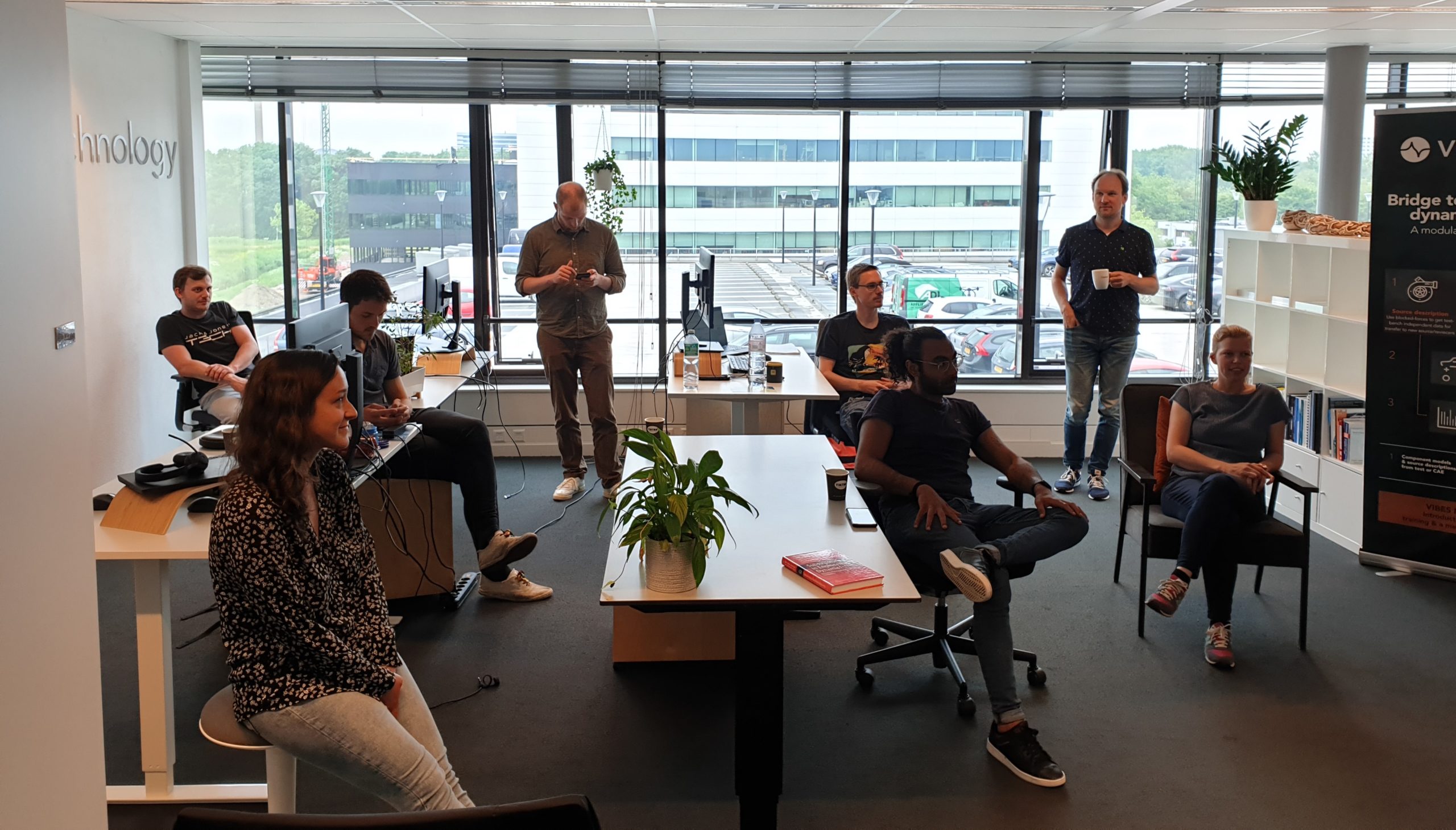 Later that day we had our first of two brainstorm sessions. The subject for this brainstorm was our newest application "COUPLE." Maarten van der Kooij gave a short recap on the Eurostars project and on the initiation of COUPLE. Steven then took over to show the tech- and software-roadmap and invited all of us to think about valuable features that should be implemented in COUPLE. The combined knowledge of all teams (engineering, sales, development) was extremely strong! Everyone had lots of ideas and after this round we all had five votes for choosing the most important features. With all features 'on the table', we continued in subgroups to create designs for the new Analyze-module in COUPLE. The challenge here is to create structure in presenting the different analysis-options, without overwhelming the user. The subgroups presented their visions, and especially the design & development team that is responsible for COUPLE was listening carefully!
Once we all presented our designs, it was time to relax! We ordered some delicious pizza's, had a drink and watched football all together. Unfortunately for our German colleagues, Germany lost the match – so after 90 minutes of play-time we all went home as fast as we could… 😉
Wednesday 30-06-2021
On Wednesday the 30th of June it was time for a training on storytelling and for the second brainstorm session. The training was provided by Barbara Rogoski through YES!Delft and helped us to create even stronger, clearer messaging – ranging from customer presentations to results discussions and personal introductions at informal events. Insightful for all of us!
For the marketing brainstorm session we invited a special guest, or actually two: Lidka and baby Sophia. Lidka is currently out of office due to maternity leave but was more than happy to help us sharpen our marketing knowledge!
Lidka elaborated on the different ingredients you need to consider when sending a message. Think: target groups, brand identity, channels and competition. It was very informative and will definitely help us to further define our marketing strategy. As VIBES is growing, this will become more and more important!
After the theory, it was time to divide into subgroups again and put the newly acquired knowledge into practice! The subgroups created their vision and ideas on different topics as "VIBES brand identity, core values and social media,"  "Building the VIBES dynamics community," and "Product marketing."
We closed the session of course with presenting our outcomes to each other.
Thursday 1-7-2021
On Thursday our 2-day teambuilding event in Valkenburg started. On the way to Valkenburg we drove by Helmond, where Lightyear had invited us for a visit – an invitation we could not refuse! After an interesting presentation and discussion about mobility of the future, the Lightyear NVH engineers gave a guided tour through the company – and even gave the opportunity to see and feel the first prototype of the Lightyear One!
After this exciting and special visit at Lightyear we continued our travel to the south of Limburg. We arrived at Snowworld Landgraaf exactly on time for lunch.
With new energy it was time for some action: we got to push our limits on the adventure trail. In different groups we all enjoyed the trail on our own pace: some of us turned out to be real 'monkeys' and others preferred to stay a bit closer to the ground, while others quite quickly decided that keeping seats warm on the terrace and watch was their preferred activity  😉
Following an afternoon of fun and activity it was time to check in to our hotel in the center of Valkenburg and get ready for dinner. We choose a nice Mexican Restaurant. Unfortunately during this dinner it was not only fun, we also said goodbye and raised a glass for Julie, our Project Manager. She is facing an awesome adventure in her home country, by travelling around in a camper van!
As restrictions were lifted and we all got a negative covid-19 test before the event (TestenVoorToegang had just gone live), we even had the chance to have some drinks and dance a bit after dinner…😊
Friday 2-7-2021
The next morning, 2nd of July we had breakfast in the hotel, did the check-out and continued our program at the caves of Valkenburg for some Laser game sessions. After the team was split up into two teams the competition could start. The first five minutes we needed to accommodate a bit with the setting, but after that our 18 competitive characters dominated and we had no mercy for each other..!
To finish this awesome lustrum-week we went up the hill with the cable carts and had lunch all together to review the past days.