The VIBES.experience 2022
On Friday, 16 September 2022 we organized the very first VIBES.experience; an event full of inspiration & knowledge sharing in the field of NVH. VIBES' partners, clients, employees and other interested parties came together at the YES!Delft Auditorium to create good vibrations together!
Gerard Ruckert, our newest Software Engineer, reported on the event and shares his experience of the day with us from the audience.
Part I of the VIBES.experience
Inspiration & knowledge sharing
VIBES designed the VIBES.experience to exchange technological knowledge, share new features of DIRAC, SOURCE and COUPLE, discuss all kinds of related subjects and, not least, to meet each other. We have asked several speakers to share their insights. After the opening by our host Dennis de Klerk, a pioneer of VIBES Dynamic Substructuring methodology, the first presentation was given by Prof. dr. Daniel Rixen of TU Munich, about Experimental Substructuring. He shared his insights on where we come from and where we might go regarding this topic. Given his history as Professor in Structural Dynamics at TU Delft until 2012, and TU München since then, he was able to reflect on the current state-of-art of Substructuring technology, and specifically the way to implementation in industry. It was warming to see the PhD works of Dennis de Klerk, Maarten van der Seijs and Michael Haüssler being mentioned as significant contributions to the state of technology of today.
Then, André Passanesi of Volvo Cars showed us the application of the Virtual Point Transformation in road noise performance analysis and Dennis Zabel of Robert Bosch Automotive Steering GmbH presented the history and use of Blocked Forces. Dennis Zabel reflected on the long tradition of collaboration at Bosch with Salford University, in particular the department of Professor Andy Moorhouse. It was inspiring to hear how the two timelines of the "Rixen-school" – the Structural Dynamics approach practiced at TU Delft and TU München – and the "Moorhouse-school" – the Blocked Forces and acoustics approach known from Salford – have led to successful industrialization in their own respect. After a timeline of about 15 years, these developments seem now to have unified into strong technological answers, such as Blocked Forces, Virtual Acoustic Prototyping and Test-Based Modelling, which are all in the heart of the software and technology of VIBES.
Arthur Hülsmann of BMW Group talked about experimental and numerical substructuring in electric drivelines and Twan van de Weijer of ASML shared his insights on system dynamic measurements for lithography systems.
Finally, our own Eric Pasma shared the VIBES software outlook for 2023, including an overview of the features that COUPLE has to offer.
Gerard, who is still in the process of onboarding, enjoyed the vibe of the day: "I have a technical background (Civil Engineering), but in that area nothing should vibrate 😊, so 'vibes' are relatively unknown for me. The VIBES.experience gave me an useful overview about the topics in the world of sound and vibrations. And it was clear that I'm not the only one who enjoyed it. It was nice to see how enthusiastic all participants are. At the end we've seen a lot of big smiles on their faces, which is a good sign!
Part II of the VIBES.experience
Speeches and a festive cheers
After the official part of the event, we moved to the main hall of YES!Delft for the next part of the event. First a few speeches were given by Maarten van der Kooij, former CEO of VIBES, Dennis de Klerk, as our new board member, and Peter Romanow of MÜLLER-BBM AG, our partner and new shareholder.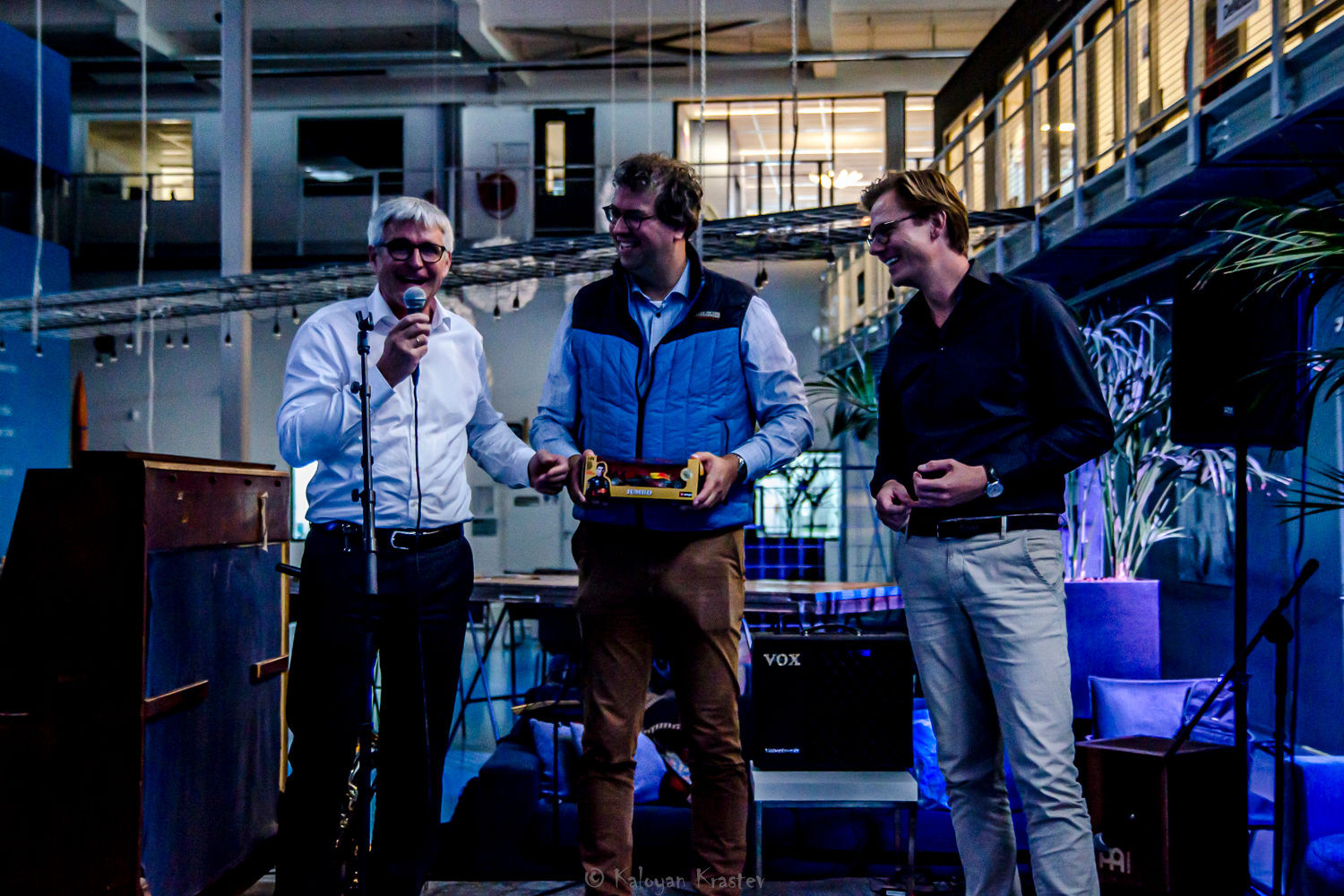 From left to right: Peter Romanow (MÜLLER-BBM AG), Dennis de Klerk & Maarten van der Kooij (both VIBES)
Such a successful and inspiring day, asks for a festive cheers! According to a VIBES tradition, the champagne was sabered and a toast was made to a great event and the strengthened partnership with MÜLLER-BBM.
Speaking of a successful future, Gerard is inspired by today's vibe: "I really would like to grow to a 'full scale' developer that technically oversees the applications of VIBES. From there I hope that the team and our clients will profit from my long development experience."
Part III of the VIBES.experience
Sharing sound & good VIBES
To conclude the day, we celebrated while enjoying the sound and good vibrations of the VIBES.band, consisting of musical VIBES team members (of which we have a lot!).
Gerard, who plays the saxophone, enthusiastically joined the VIBES.band right away! "The first impression about VIBES was of a group of very bright young people who work with a lot of enthusiasm on software at a very high technical level. That impression did not change. And I also saw a good organized company, a lot of friendship, enthusiastic clients and great musical VIBES."
A big thank you to all of the speakers and participants of the event. We're looking forward to the next VIBES.experience, where we can create good vibrations together again!