Experimental Modal Analysis meets DIRAC
The Experimental Modal Analysis (EMA) module is the latest addition to our software DIRAC. With EMA, you can perform modal analysis on your FRFs, all within the workflow for live measurement as familiar from DIRAC.
By incorporating advanced algorithms and smart settings, EMA ensures a complete and comprehensive understanding of your data, all in one workflow.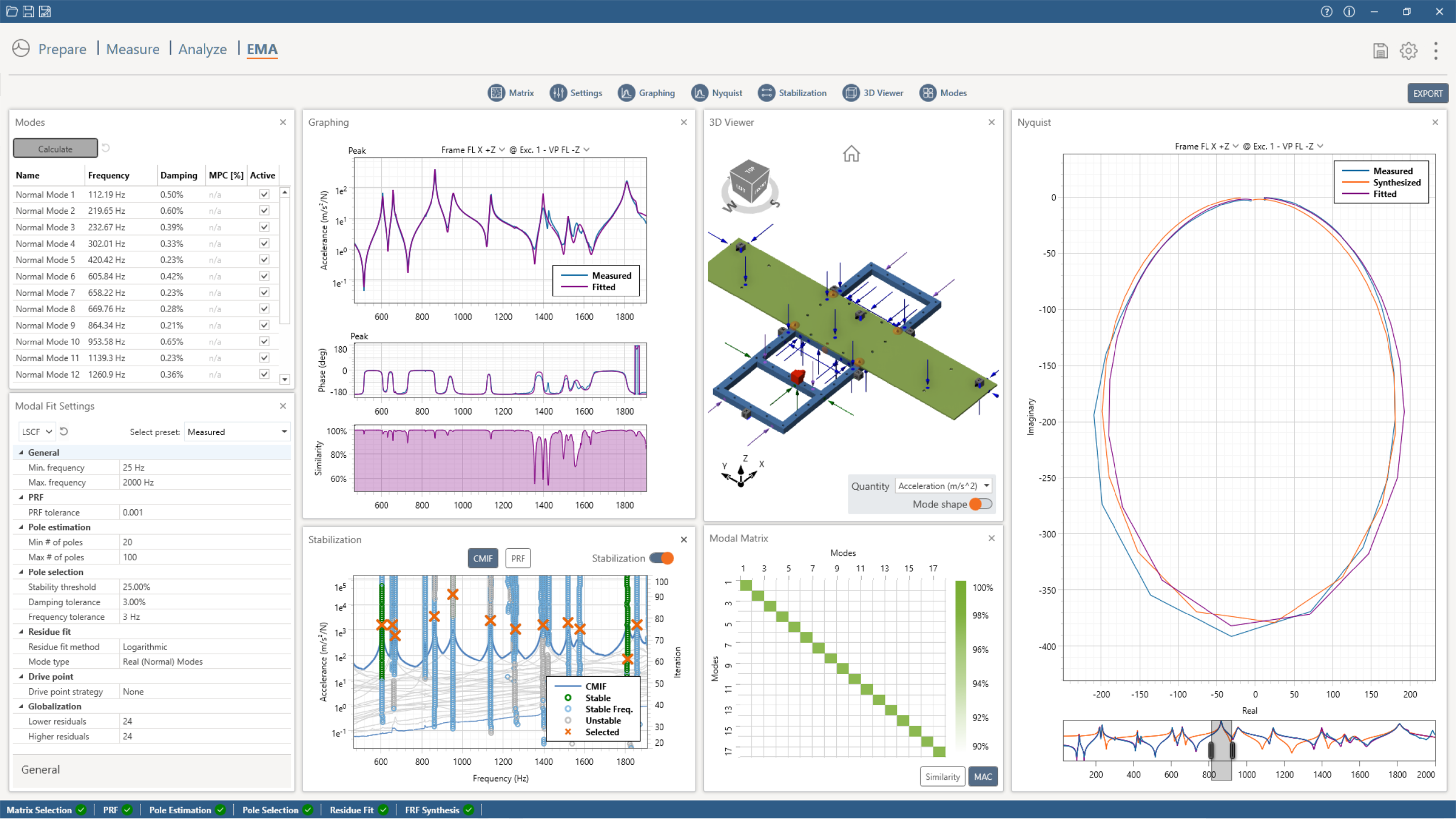 Why EMA in DIRAC?
We decided to add EMA to DIRAC, because we wanted to give our users the capability to perform Modal Analysis on their measured FRFs. EMA has been developed to empower engineers with even more profound insights into their data and its quality. With EMA, we bring the entire workflow into one tool, removing the need to navigate into different software. Opening DIRAC, you can now perform the entire process, from A to Z into one single tool.
For those familiar with DIRAC, EMA was the logical next step. EMA perfectly integrates into the software and expands the knowledge you can get from your data. EMA isn't just a tool: it's the next milestone in your workflow. As you progress through your data processing, EMA is the next in the line, providing advanced features and functions to give you full knowledge of your system.
''As the other modules the EMA is well structured and the usage is intuitive. Compared to competitor software the settings and results are in one side. After a change of a parameter only one click is necessary to get all the plots updated. Really great!''
- NVH Engineer from OEM -
What is unique of EMA in DIRAC?
LCSF algorithm based on PRF. The algorithm used in EMA is fully developed by VIBES. It combines the commonly used LSCF mode fitting with other techniques, such as PRF (Principal Response Function) decomposition. The PRF algorithm helps to reduce the effect of noise and to fit modes on a large number of FRFs quickly.
Virtual Point for Drive Point Scaling. In EMA you can set your Virtual Points as drive points, and, if desired, you can enforce reciprocity.
Smart Settings and Pole Picking. Using smart settings, DIRAC automatically finds the set of inputs that give you the best fit. If needed, the intuitive pole-picking feature simplifies the pole-selection process.
Logarithmic Residue Fit. It improves the fit of anti-resonances and models with low amplitude.
All-in-One Dashboard. In the EMA module, all your data visualization and analysis tools are consolidated in a single, user-friendly dashboard.
User-Friendly Yet Powerful. EMA is designed to cater to users of all skill levels. Beginners will find it easy to navigate, while experts can harness its full power for complex analyses.
''I did tests with datasets that we measured to identify the static torsion stiffness of the BIW. It is impressive how easy and fast it is to get a very good fit of the curves. ''
- NVH Engineer from OEM -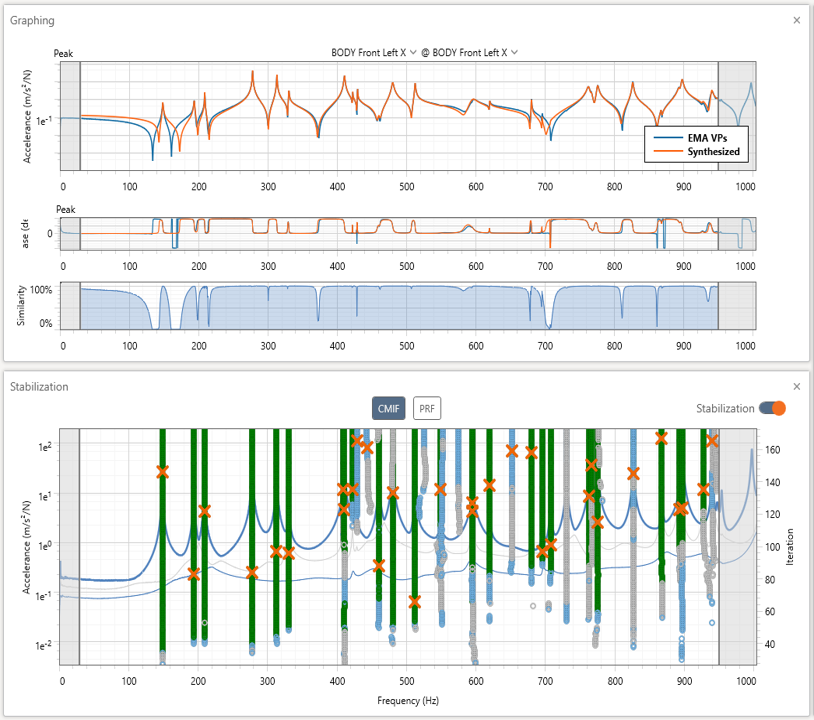 Summarizing, the DIRAC EMA module puts easy yet powerful modal analysis capabilities in the hands of the NVH engineer.
Are you excited to try this out for yourself? Please reach out to us to discuss the possibilities or request a demo.